As a leading service provider in the field of drug discovery and research, BOC Sciences has established an advanced one-stop Proteolysis Targeting Chimeric (PROTAC®) service platform to provide a number of related scientific research outsourcing services.
Introduction
In PROTAC technology, after delivering PROTAC compounds to living cells, it utilizes the ubiquitin proteasome system (UPS) to target the protein of interest (POI) and induce their degradation in living cells. Therefore, during the development or optimization processes of PROTAC technology, some relevant parameters, such as cell permeability and ligand-receptor binding, need to be analyzed and verified on the living cells platform. BOC Sciences provides high quality advanced live-cell assay platform to help customers further develop and optimize PROTAC technology. Our expert team has many years of experience in live-cell assays, which can guarantee to provide customers with high efficiency and high-quality services, helping customers get lower research costs and shorter research cycles.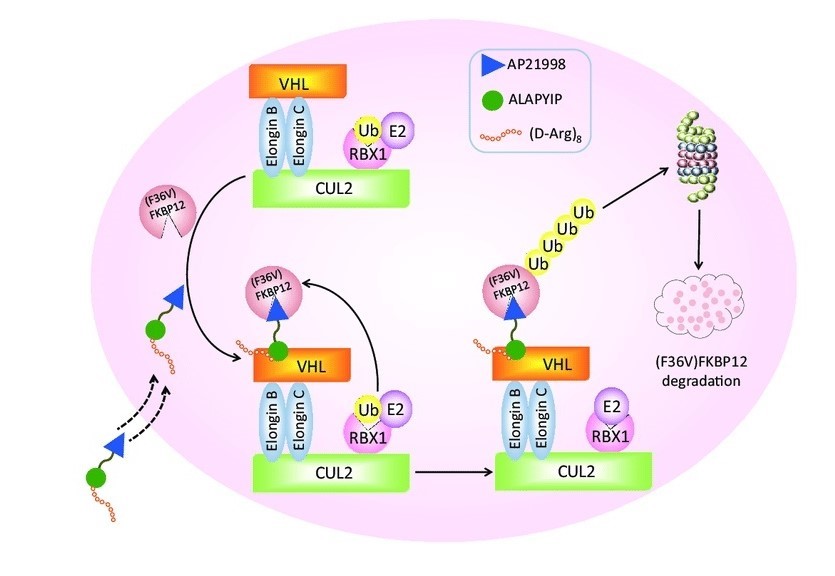 Our Live-Cell Assay Services (include but are not limited to the following):
Protac Permeability Evaluation
In the application of Protac technology, part of the target protein is located in the cell, so Protac needs to cross the cell membrane to bind to the target protein. However, some Protac, such as peptide-based Protac, may have the disadvantage of insufficient membrane permeability, which will affect the potency and clinical application of Protac. Due to the various first-class technology platforms and experienced expert teams BOC Sciences owned, we can provide high quality and efficient Protac permeability evaluation services to help customers detection and analyze cell permeability during the development of Protac.
Ligand Binding Measurement
The Protac compound contains a ligand that binds to the target protein and a ligand that binds to E3 ubiquitin ligase, which are related to the recruitment of the target protein in living cells and the functional effect of UPS. In addition, researches of Protac technology may also involve the study of other ligands, so it is necessary to perform ligand binding measurement in living cells. BOC Sciences has a mature technology platform in the field of ligand binding testing, which can realize high sensitivity testing and real-time monitoring of ligand binding.
Our technology platform for Live-Cell Assay
As a professional company engaged in technology outsourcing services related to Protac technology, BOC Sciences has a set of advanced live-cell assays technology platforms, including surface plasmon resonance (SPR), SPR imaging for affinity-based biosensors, fluorescence resonance energy transfer (FRET), bioluminescence resonance energy transfer (BRET), etc.
Our Advantages
Provide testing services with high sensitivity and accuracy
Multiple technical platforms to meet the different needs of customers
With high-throughput and real-time monitoring technology system
Experienced technical team helps you to customize personalized testing solutions
Short service cycle, competitive price
Quality one-stop service
Workflow of Live-Cell Assay

References:
Sun, X. Y.; et al. Protacs: great opportunities for academia and industry. Signal Transduction and Targeted Therapy. 2019, 4: 64.
Gu, S.; et al. Protacs: an emerging targeting technique for protein degradation in drug discovery. Bioessays. 2018, 40(4): e1700247.
* PROTAC® is a registered trademark of Arvinas Operations, Inc., and is used under license.
Our Products