As a leading service provider in the field of drug discovery and research, BOC Sciences has established an advanced one-stop Proteolysis Targeting Chimeric (PROTAC®) service platform. We offer technical services for PROTAC activity assay. Our expert team has rich experience and professional technical knowledge about PROTAC activity assay, and can carry out the activity detection according to the specific needs of different customers.
Introduction
PROTAC is composed of 3 independent parts, and each part can be replaced or adjusted individually, so that there is a difference in activity between different PROTAC compounds. For example, the change of linker length has a certain effect on the activity of PROTAC to degrade the estrogen receptor. In addition, the peptide length of E3 ligase recognition motif and the binding site of the linker also changes the activity of PROTAC. The activity of PROTAC directly affects its potency and the degradation of the target protein, so it is necessary to perform PROTAC activity assay during its development and screening process.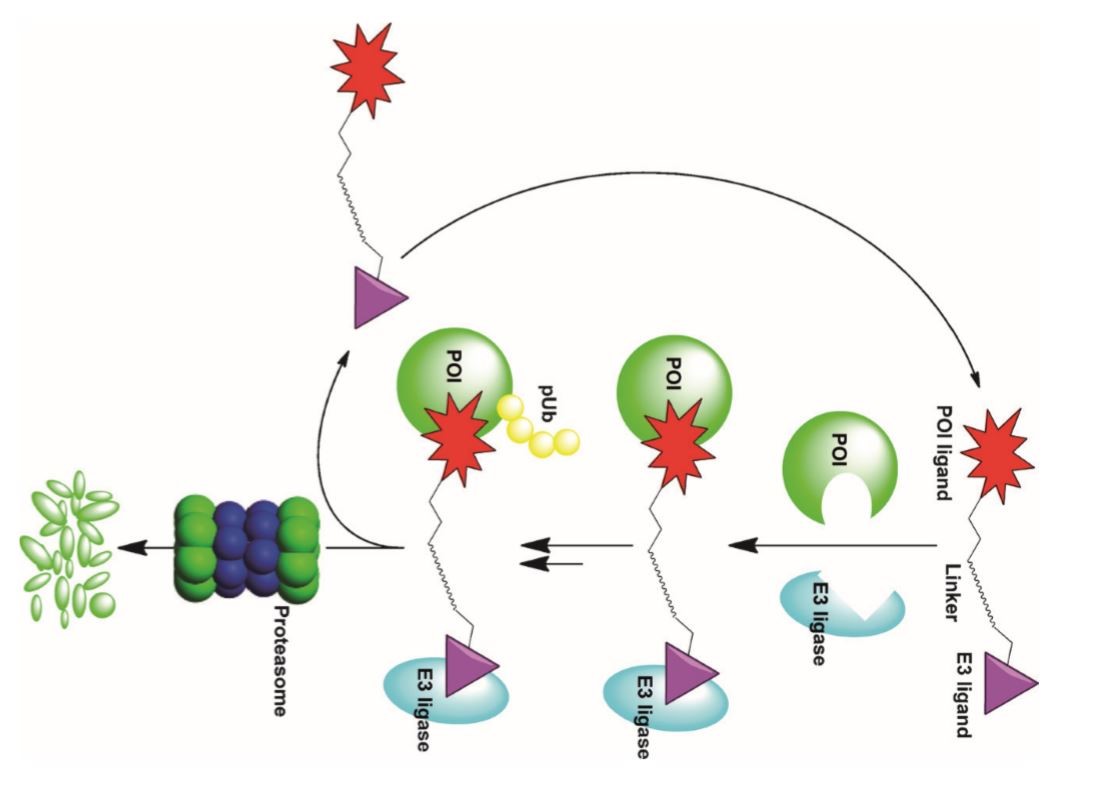 Our Services for PROTAC Activity Assay (include but not limited to the following):
Binding Assay
When PROTAC technology is used to degrade the target protein, it involves the binding of the ligand in the PROTAC compound to E3 ubiquitin ligase or the target protein, which affects the activity and function of PROTAC. Therefore, when developing and screening PROTAC, it is necessary to study the binding interaction. BOC Sciences provides surface plasmon resonance (SPR), bio-layer interferometry (BLI) and bioluminescence resonance energy transfer (BRET) technology platforms for binding analysis.
Permeability Assay
Cell permeability plays a key role in the potency of PROTAC technology. There may be a decrease in cell permeability in the early stages of PROTAC development, so permeability testing is necessary for the development of PROTAC technology. Our experts team can provide customers with high-quality permeability assay services through the technical platforms owned by BOC Sciences (BRET, parallel artificial membrane permeability assay, Caco-2 assay, etc.)
Protein Degradation Ability Assay
Protein degradation is the important goal of PROTAC technology, so the detection of protein degradation ability can help compare the activity of different PROTAC compounds. We provide a variety of technical platforms for protein degradation analysis, including western blot, mass spectrometry (MS), HiBiT endogenous tagging, time-resolved fluorescence resonance energy transfer (TR-FRET), etc.
Ternary Complex Formation Assay
Ternary complex refers to the complex formed by PROTAC with the target protein and E3 ligase, and is a precursor necessary for downstream ubiquitination reactions. BOC sciences has a number of first-class technology platforms that can be used to test the formation of ternary complexes, including TR-FRET, BRET, fluorescence polarization (FP), etc.
Ubiquitination Assay
Ubiquitination is a post-translational modification process of proteins, so ubiquitination assay is a key step in determining the success of PROTAC. We provide technical platforms such as MS, BRET, TR-FRET, western blot and immunoprecipitations for ubiquitination analysis.
Our Advantages
Provide multiple types of PROTAC activity assays
Multiple technology platforms to choose from for each test service
Customers can formulate suitable detection scheme through discussion with our experts
High-throughput analysis and live cell analysis of PROTAC activity
Highly reliable and reproducible results
Quality one-stop service
Workflow of PROTAC Activity Assay

References:
Cyrus, K.; et al. Impact of linker length on the activity of Protacs. Molecular BioSystems. 2011, 7(2): 359-64.
Toure, M.; Crews, C. M. Small-molecule Protacs: new approaches to protein degradation. Angewandte Chemie International Edition. 2016, 55(6): 1966-1973.
Daniels, D.L.; et al. Monitoring and deciphering protein degradation pathways inside cells. Drug Discovery Today: Technologies. 2019, 31: 61-68.
* PROTAC® is a registered trademark of Arvinas Operations, Inc., and is used under license.