PROTAC Design for Disease Treatment
As a leading service provider in the field of drug discovery and research, BOC Sciences has extensive experience in targeted protein degradation therapies and the commercial development of PROTAC molecules. We are committed to providing one-stop PROTAC® based molecular drug discovery services, which has become a promising strategy for disease treatment. With a comprehensive and advanced platform, we provide PROTAC design services to help our clients develop new drug molecules to achieve their therapeutic disease goals.
Introduction
Proteolysis-targeting chimerics (PROTACs) are attracting more attention today as a potential treatment for cancer and other diseases. PROTACs consist of ligands, E3 ligase recruitment elements and junctions of target proteins. PROTACs can hijack the intrinsic intracellular ubiquitin proteasome system to degrade different target proteins.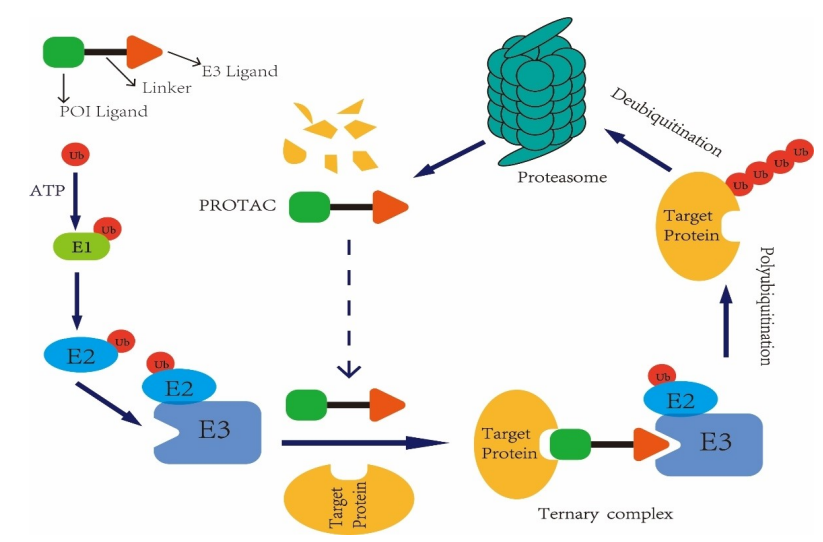 Fig 1. Acting mechanism of PROTAC molecules in vivo (Li, 2020)
Cancer progression depends on the overexpression of proteins in many signaling pathways. The limitation of small molecule inhibitors for cancer treatment is that they act by binding to a structural domain of a protein, resulting in a very limited number of druggable targets. Given that PROTACs act by degrading rather than inhibiting the targets, they have the potential to become first-in-class drugs. Furthermore, PROTACs hold the promise of reaching the goal of exploiting undruggable targets.
Although the vast majority of newly developed PROTACs and molecular glue compounds currently in clinical trials target various types of cancer, however, the scope of PRTOACs goes further than oncology due to their potential to degrade any chosen target. Currently, PROTACs targeting disease-related proteins have been developed for the treatment of different diseases including cancer, inflammatory and immune diseases, viral infections, neurological diseases, etc.
PROTACs for Various Disease
PROTAC Therapeutic Areas
Related PROTAC Products

PROTACs for Cervical Cancer
PROTACs for Prostate Cancer
PROTACs for Breast Cancer
PROTACs for Lung Cancer
PROTACs for Liver Cancer
PROTACs for Lymphoma
PROTACs for Leukemia
PROTACs for Neuroblastoma (NB)
PROTACs for Myeloma
Autoimmune diseases
Autoinflammatory diseases
Cardiovascular disease
Alzheimer's disease
Huntington disease (HD)
HCV infection

CAS 1949837-12-0
Inquiry
CAS 1818885-28-7
Inquiry
CAS 1799711-21-9
Inquiry
CAS 2230077-10-6
Inquiry
CAS 2349356-09-6
Inquiry
CAS 1797406-69-9
Inquiry
CAS 2064292-12-0
Inquiry
CAS 2320561-35-9
Inquiry
CAS 2230077-10-6
Inquiry
CAS 2229036-62-6
Inquiry
CAS 2231744-29-7
Inquiry
Although small molecule modulators targeting tumor cells are widely used, they still have some drawbacks such as drug resistance, toxicity and poor selectivity. PROTAC holds promise as a new therapeutic strategy to overcome the drawbacks of these drugs.
PROTACs in neurodegenerative diseases
Neurodegenerative diseases are caused by the loss of neurons or their myelin sheaths. β-amyloid (Aβ) cascade and pathogenic tau protein are more like to be the target. Several cases of peptide-based PROTAC and small molecule-based PROTAC have been reported to degrade tau proteins, with important implications for the treatment of neurodegenerative diseases.
PROTACs in immune system diseases
Autoimmune diseases are those in which the body's immune response to self-antigens leads to damage of its own tissues and even to organ failure and death. For example, IRAK4, a key signal transducer and kinase downstream of the Toll signaling pathway, is involved in mediating various inflammatory responses. PROTAC molecules have been developed to target IRAK4 for degradation to achieve anti-inflammatory and immune modulating functions.
PROTACs in virus infection
Hepatitis B virus (HBV) is the leading cause of acute and chronic hepatitis B. X-protein, a transactivator in HBV, plays an important role in the pathogenesis of HBV-induced hepatocellular carcinoma (HCC). Several peptide-based PROTAC molecules targeting X-proteins have been reported, which deserve to be investigated in preclinical studies for their ability to treat HBV infection and/or HCC.
Our Services
Our Advantages
One-stop services of PROTAC design for disease treatment
Well-established PROTAC platform
Wide range of available small molecule ligands
Expertise and experienced scientific team
Data analysis, detailed results reporting and discussion
Highly reliable and reproducible results
Cost-effective and high-quality products
Project Workflow

References:
Zhou, X., Dong, R., Zhang, J., Zheng, X., Sun, L., PROTAC: A promising technology for cancer treatment, Eur. J. Med. Chem., 2020, 203, 112539.
Li, J., and Liu, J., PROTAC: A Novel Technology for Drug Development, ChemistrySelect, 2020, 5, 13232-13247.
* PROTAC® is a registered trademark of Arvinas Operations, Inc., and is used under license.