PROTACs Targeting Nuclear Receptors
Nuclear receptors comprise a class of intracellular transcription factors that play central roles in signal transduction. With intensive research in oncology, nuclear receptors have shown great promise as novel therapeutic targets for different cancer types. PROTAC (proteolysis targeting chimera) degraders have revealed potential in becoming a new and effective class of cancer treatment. As a leading CRO, BOC Sciences is committed to the development of targeted protein degraders and has established a comprehensive PROTAC service platform. With extensive experience and expertise in PROTAC and targeted small molecules, we offer drug development services for PROTAC molecules targeting nuclear receptors.
Introduction
Nuclear receptors (NRs) represent a class of intracellular proteins and function to convert external signals from the form of ligands into transcriptional outputs. The role of NRs in cancer progression has been extensively studied because they corroborated the characteristics of cancer cells in multiple biological processes. NRs represent a high proportion of classical drug targets. The first members of the nuclear receptor family identified are estrogen receptors (ERs) and androgen receptors (ARs), which are still the most widely studied NRs in clinical trials so far.
Although NRs contain a ligand-binding domain, strategies to block or activate NRs by targeting their ligand-binding pockets with small molecules are still limited. For example, sequential AR antagonists have been shown to be agonists when the AR gene is overexpressed or mutated. PROTAC molecules are small bifunctional molecules that bind both target proteins (e.g., NRs) and E3-ubiquitin ligases, thereby leading target protein ubiquitination and subsequent degradation. Unlike conventional inhibitors, PROTACs exhibit great potential for undruggable targets because they do not require inhibition of protein catalytic activity or interference with protein-protein interactions to complete degradation. Given the catalytic characteristics and degradation selectivities of PROTACs, they are particularly well suited to abrogate the activity of nuclear receptors.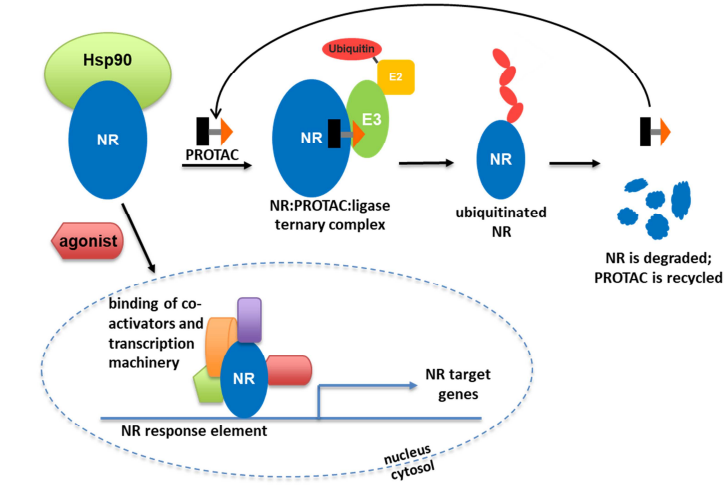 Fig 1. PROTAC targeting NR degradation (Hu, 2020)
Services of PROTACs Targeting Nuclear Receptors
The advent of PROTAC molecules has opened up the possibility of targeting many NRs, and the first wave of PROTAC degraders that entered the clinic includes molecules targeting ERs and ARs. At BOC Sciences, we offer PROTAC targeting nuclear receptor development services. AR and ER are particularly suitable for degradation by PROTAC technology among the NR family of drug targets. Currently, several PROTAC drugs targeting NR have entered early clinical trials, including ARV-110 and ARV-471, demonstrating that NRs can be a promising target for PROTAC drug development.
AR is an important therapeutic target for prostate cancer, and the degradation of AR was discovered to be potentially beneficial for CML treatment. In fact, CML treatment options are limited due to insensitivity or resistance to antineoplastic drugs. Thus, PROTAC degradation agents have overcome related limitations by effectively degrading protein targets in tumors.
ER is commonly overexpressed in breast cancers. PROTAC has been shown to be an effective treatment in ER degradation and superior to fulvestrant and other clinical-stage selective ER degraders.
Our Advantages
Customized PROTAC development based on NRs targets
Quality one-stop service
Short turn-around time and competitive price
Data analysis, detailed report with results and discussion
Highly reliable and reproducible result
Project Workflow

References:
Flanagan, J. J., Neklesa, T. K., Targeting Nuclear Receptors with PROTAC degraders, Mol. Cell. Endocrinol., 2019, 493, 110452.
Yang, Z., et al., Targeting Nuclear Receptors for Cancer Therapy: Premises, Promises, and Challenges, Trends Cancer, 2021, 7, 541-556.
Hu, B., et al., PROTACs: New Method to Degrade Transcription Regulating Proteins, Eur. J. Med. Chem., 2020, 207, 112698.
* PROTAC® is a registered trademark of Arvinas Operations, Inc., and is used under license.