Lysosomal-Based Degradation Technology Development
As a leading CRO in the pharmaceutical industry, BOC Sciences is committed to providing innovative small-molecule targeted drug development services to our global customers. With our experienced team of experts and extensive expertise, we are proud to have served our clients for over 10 years. In the field of targeted protein degradation, we possess extensive experience from successful projects and continue to broaden the boundaries of our technologies. The lysosomal system is one of the major pathways by which cells degrade extracellular and intracellular substances. We can provide drug discovery services using new strategies and technologies that target lysosomal degradation.
Introduction
Lysosomes play an important role in protein degradation. Protein degradation drugs targeting the lysosomal degradation pathway can directly regulate disease-related protein levels in vivo. The lysosomal system and proteasome pathway are of two most significant degradation pathways in cells. PROTAC technology is known to provide a powerful tool for degrading many disease-causing 'undruggable' protein targets using the ubiquitin-proteasome system and has emerged as a promising approach for drug discovery. Lysosomal-based degradation technology may significantly broaden the target range that can be selectively degraded by exploiting another major degradation pathway in cells.
Lysosomes play a vital role in the degradation and recycling of extracellular material and in maintaining cell homeostasis. Lysosomes function in two ways, endocytosis for extracellular material and autophagy for intracellular material. Lysosomes contain various hydrolytic enzymes which can break down proteins, nucleic acids, polysaccharides, lipids, etc.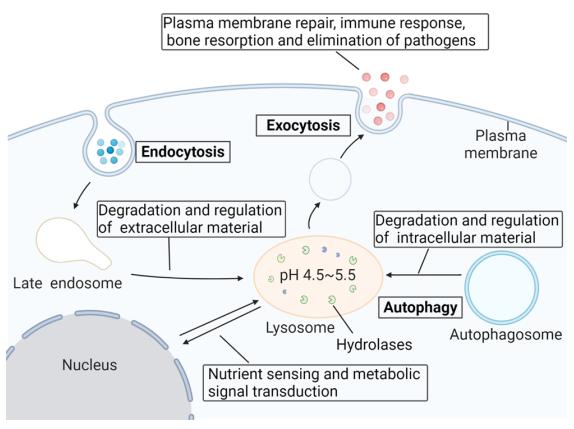 Fig 1. The lysosomal degradation pathway (Pei, 2021)
Protein degradation through lysosomal pathways has greatly expanded the range of drug molecules. The transport of proteins to lysosomes can be hijacked by lysosome-targeting receptors (LTRs). At present, new technologies that rely on the lysosomal pathway have been developed for protein degradation, including LYTAC (lysosomal targeting chimera), AUTAC (autophagy targeting chimera), and ATTEC (autophagosome-tethering compound). In addition, antibody-based PROTAC (AbTAC) is also utilizing lysosomal degradation. The characteristics of these lysosome-based degradation technologies are listed as followings:
|   | LYTAC | AUTAC | ATTEC | AbTAC |
| --- | --- | --- | --- | --- |
| Structure | POI ligand-linker-LTR ligand | POI ligand-linker-guanine derivative | Low molecule weight compound | Bispecific lgG |
| Target protein | Extracellular and transmembrane proteins | Intracellular proteins or organelles | Intracellular proteins or other substrates | Extracellular and transmembrane proteins |
| Degradation mechanism | Endosome-lysosome pathway | Selective autophagy-lysosome pathway | autophagy-lysosome pathway | RNF43-lysosome pathway |
Table 1. Characteristics of lysosome-based protein degradation technologies (Lin, 2021)
Services for Lysosomal-Based Technology Development
We covalently linked protein of interest (POI) ligand, linker and LTR ligand to obtain complete drug molecules.
We screen compounds of high affinity toward target proteins from compound database using virtual screening technique.
We provide chemical structure modification services to improve drug molecule properties.
We provide comprehensive analysis services at every stage of preclinical drug development.
Our Advantages
Novel targeting protein degradation technology
Multiple technologies to choose from to meet project needs
Experienced expert teams and extensive expertise
Highly reliable and reproducible results
Data analysis, detailed report with results and discussion
Quality one-stop service
Short turn-around time and competitive price
Project Workflow

References:
Pei, J., et al. Targeting Lysosomal Degradation Pathways: New Strategies and Techniques for Drug Discovery, J. Med. Chem., 2021, 64, 7, 3493-3507.
* PROTAC® is a registered trademark of Arvinas Operations, Inc., and is used under license.