BOC Sciences provides high-quality virtual screening services that enable researchers to identify the most promising candidates. Our optimized virtual screening scheme can reduce the size of the chemical library to be screened through experiments, increase the possibility of finding innovation hits in a faster and cheaper way, and reduce the risk of failure in the optimization process of potential customers.
Introduction
Virtual screening (VS) is also known as computer screening, that is, before biological activity screening, molecular docking software on the computer is used to simulate the interaction between the target and the candidate drug, and calculate the affinity between them, so as to reduce the actual number of screened compounds and improve the efficiency of leader compound discovery. The research showed that HADDOCK was the best protein-protein docking tool among those researchers tested to predict how E3 ligases interact with their protein substrates. We can dock virtual libraries of PROTAC® candidates to these E3 ligase-substrate protein interfaces can be used to predict which Protacs are active.
Application
Nowak et al. clearly showed that different Protacs could induce different binding poses between CRBN and BRD4BD11. If we accept this hypothesis, the PROTAC docking step should be more effective than conventional virtual screening activities, because the directions of the two functional ends of the PROTAC are imposed by the protein complex, which greatly reduces the available conformational space of the PROTAC and the chance to predict the wrong PROTAC binding posture.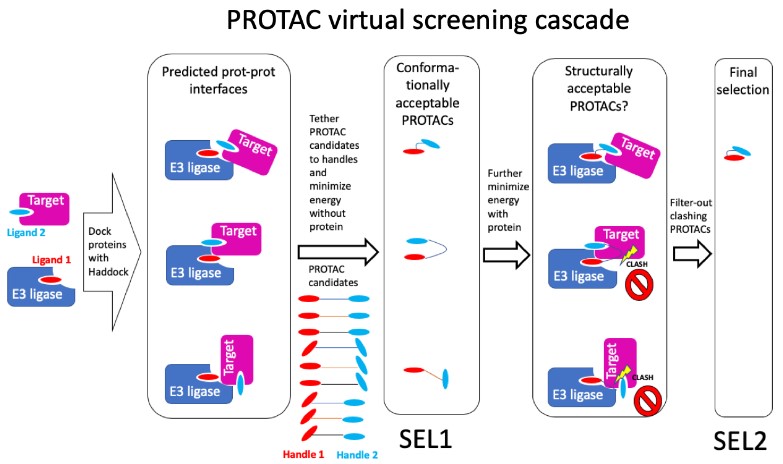 Our Advantages
100% Post Service Assistance.
High performance computer server.
Rich database resources.
Professional molecular simulation and drug design team.
Highly standard data privacy management.
Competitive pricing and fast turn-around time.
References:
Wang, X., Feng, S., Fan, J., Li, X., Wen, Q., & Luo, N. (2016). New strategy for renal fibrosis: targeting Smad3 proteins for ubiquitination and degradation. Biochemical pharmacology, 116, 200-209.
Yang, Z., He, J., Lu, A., Hou, T., & Cao, D. (2020). The Application of Negative Design to Design More Desirable Virtual Screening Library. Journal of Medicinal Chemistry.
* PROTAC® is a registered trademark of Arvinas Operations, Inc., and is used under license.