As a CRO that has been deeply involved in the field of PROTAC for over a decade, BOC Sciences provides PROTAC design services for various targets. The estrogen receptor (ER) is a validated target for the treatment of breast cancer. With extensive expertise and comprehensive platform, we provide ER-targeting PROTAC molecules design services to accelerate our clients' new drug development process.
Find out more with PROTAC Design for Target Proteins.
Introduction of ER
Estrogen receptor (ER) is a nuclear steroid receptor and plays a crucial role in breast cancer, both as a cause of growth, when tumors are stimulated by estrogen, and as a therapeutic target to inhibit growth. About 80% of breast cancers are estrogen receptor-positive (ER+). Cancer cells that are ER+ may need estrogen to grow. These cells may stop growing or die when treated with substances that block the binding and actions of estrogen. ERα and ERβ are two main nuclear estrogen receptors that mediate the biological effects of the estrogen hormones. ERα and ERβ have different structural and functional domains: N- terminal (NTD), DNA binding domain (DBD), the hinge, the C-terminal region containing the ligand binding domain (LBD). Estrogen can enter the plasma membrane and interact with intracellular ERα and ERβ. Once activated by estrogen, the ER is able to translocate into the nucleus and bind to DNA to regulate the activity of different genes.
ER PROTAC
PROTACs are heterobifunctional molecules containing two small molecule binding moieties, which are joined by a linker, and the PROTAC in the cell seeks out and selectively binds to the target protein (in this case ER). The PROTAC recruits a specific E3 ligase to ER to form a ternary complex with both the ER and the E3 ligase in close proximity. The traditional approach to inhibiting transcriptional activity of ERα is generally based on modulating the conformational states of ERα with various unnatural ligands, which usually exhibit the poor drug resistance. PROTAC technology, as a strategy to directly degrade the ERα through the ubiquitin/proteasome (Ub/26 S) pathway, shows its promise for tumor therapy.
Current ER-targeting PROTACs
On the PROTAC against ER, a highly potent and effective PROTAC ER degrader, ERD-308, has been reported achieves nanomole DC50 (concentration causing 50% of protein degradation) values in MCF-7 and T47D ER+ breast cancer cell lines, and induces >95% of ER degradation at concentrations as low as 5 nM in both cell lines. Currently, two PROTAC drugs targeting ER, ARV-471 and AC682, are in early clinical development phase 2 and phase 1, respectively, both administered via the oral route. ARV-471 can selectively target the ER, showing greater ER degradation and antitumor activity compared with the selective ER degrader fulvestrant. In a patient-derived xenograft (PDX) model from an ESR1 mutant patient, ARV-471 tolerated and showed antitumor activity in patients with ER+/HER2- locally advanced or metastatic breast cancer. AC682 is an estrogen receptor alpha (ERα) degrader developed on the AI drug discovery platform for the treatment of ER+/HER2- breast cancer. In preclinical development, AC0682 has been shown to provide potent and selective protein degradation of ERα wild-type and mutant, along with good pharmacological properties and blood-brain permeability, demonstrating excellent antitumor activity in ER+ animal tumor models.
ER-targeting SNIPERs
Specific and nongenetic inhibitor of apoptosis protein [IAP]-dependent protein erasers (SNIPERs) that recruit IAP ubiquitin ligases to degrade target proteins. SNIPER(ER)-87, using the IAP antagonist as IAP-ligand module, was reported that inhibited the growth of ER+ breast tumor cells via suppressing the ER-dependent transcriptional activation. By derivatizing the IAP-ligand module, SNIPER(ER)-110 with better effectiveness has developed, showing comparable activity to reduce ERα, better ability to degrade IAPs and inhibition of tumor progression.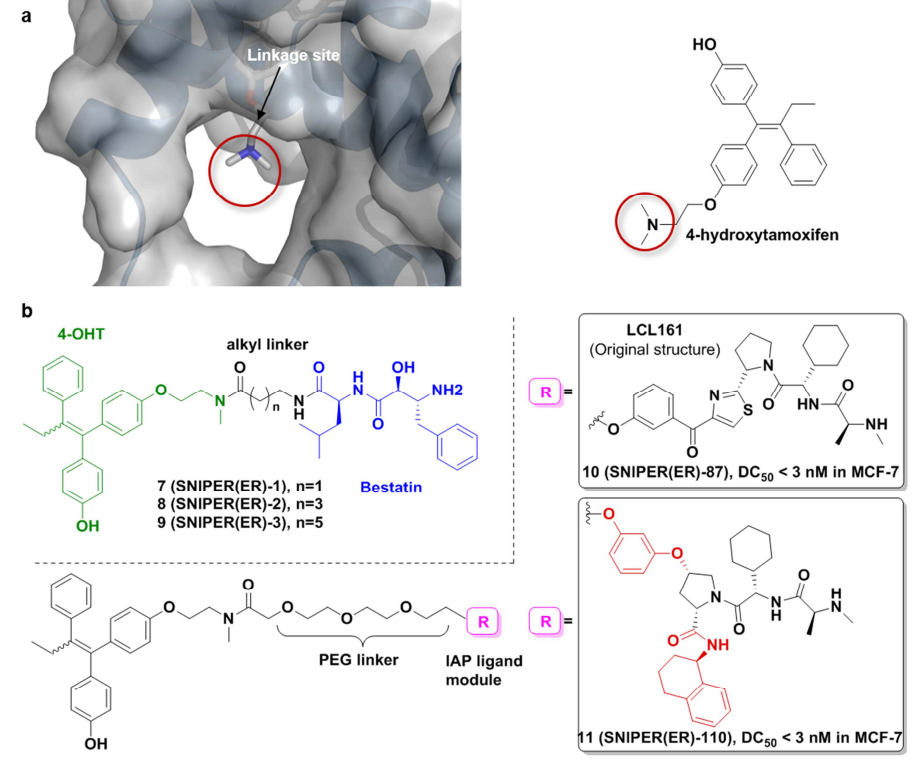 Our Services of ER PROTAC Development
Design and chemical synthesis ER PROTACs.
ER ligand binding assay.
ER degradation assay.
Related Products
We also provide target proteins, learn more Nuclear Receptors.
Our Advantages
One-stop services of ER-PROTAC design
Design and selection of small molecule ligands
Data analysis, detailed results reporting and discussion
Expertise and experienced scientific team
Cost-effective and high-quality products
References
Hu, J., et al., Discovery of ERD-308 as a Highly Potent Proteolysis Targeting Chimera (PROTAC) Degrader of Estrogen Receptor (ER), J. Med. Chem., 2019, 62, 3, 1420-1442.
Lin, X., Xiang, H., Luo, G., Targeting Estrogen Receptor α for degradation with PROTACs: A Promising Approach to Overcome Endocrine Resistance, Eur. J. Med. Chem., 2020, 206, 112689.
* PROTAC® is a registered trademark of Arvinas Operations, Inc., and is used under license.