The JAK-STAT signaling pathway can induce inflammation, as well as promote hematologic malignancies and other cancers. PROTAC technology for targeting JAK degradation offers new therapeutic avenues. As a leading CRO in targeted protein degradation, BOC Sciences provides one-stop JAK PROTACs design services.
Introduction
The Janus family kinases (JAKs), JAK1, JAK2, JAK3, and Tyk2, are involved in cell growth, survival, development, and differentiation of a variety of cells. The JAK-STAT (signal transducer and activator of transcription) pathway plays critical roles in orchestrating the immune system, especially cytokine receptors and they can modulate the polarization of T helper cells. The JAK family is not only essential for receptor cytokine signaling during differentiation of immune responses but also mediates signals for growth, proliferation, and formation of hematopoietic cells and other tissues. JAKs phosphorylate tyrosine residues which then activate downstream signaling proteins and induce physiological functions. When JAKs are activated, they transfer extracellular signals from cytokines, growth factors, and chemokines, which then are translated directly to change DNA transcription and translation of several proteins. The mutations of Jaks have been described to be present in different types of hematopoietic malignancies and solid tumors.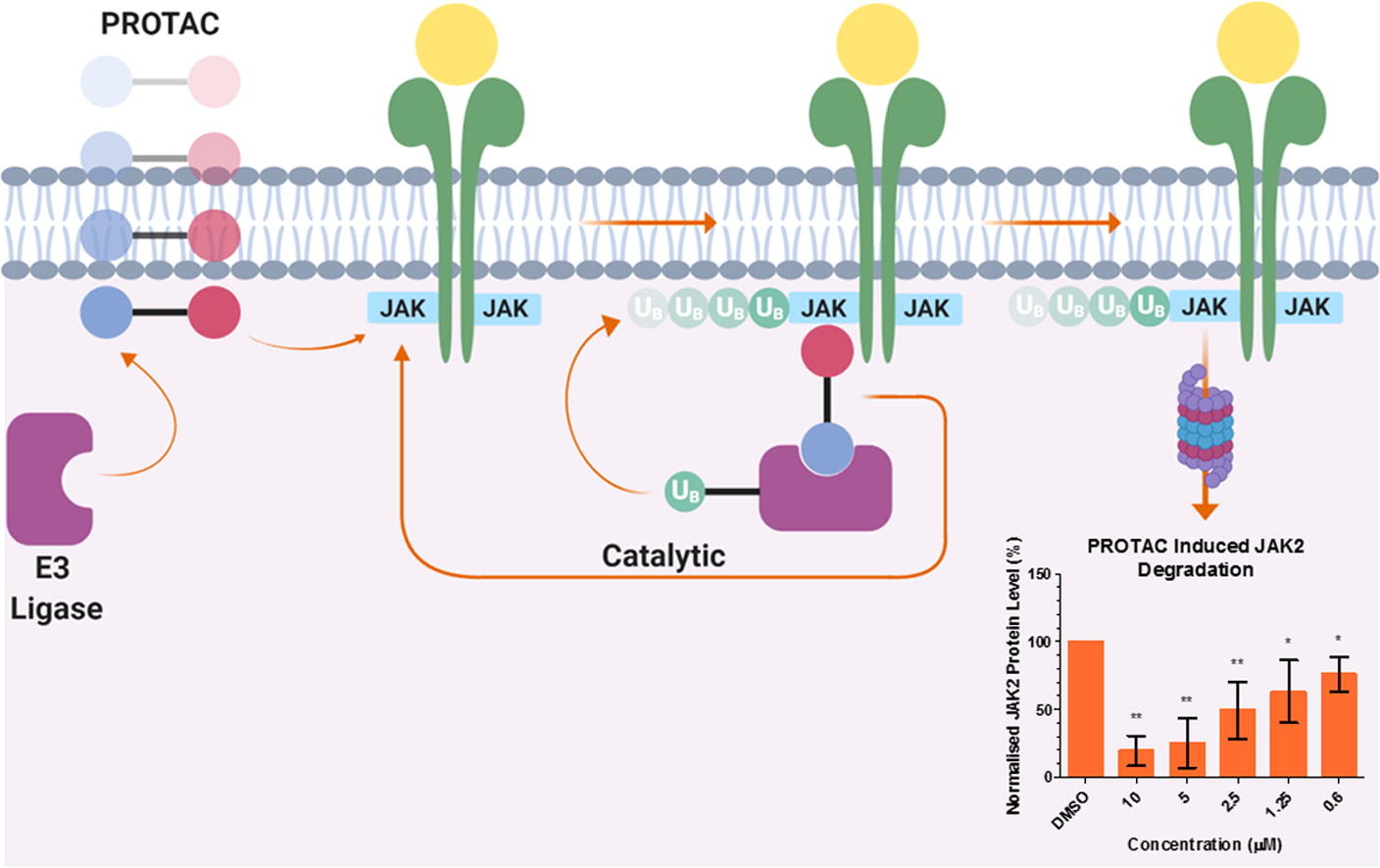 Fig.1 The JAK PROTAC (Shah, 2020))
About JAK PROTACs
PROTACs (proteolysis targeting chimeras) have recently emerged as a novel paradigm in drug discovery. They can hijack existing ubiquitin-proteasome system to selectively degrade target proteins, in a catalytic fashion. JAK-STAT pathway plays critical role in cell communication from transmembrane receptors directly to the nucleus. Silencing components of the JAK-STAT signalling pathway by the degradation of a subset of JAK proteins may provide novel therapeutics. Although members of the JAK family can be downregulated by small molecule pan-JAK inhibitors, their degradation by PROTAC is in its infancy. Therefore, the successful degradation of the JAK proteins would demonstrate an extension of the cutting edge PROTAC methodology to an unprecedented class of protein targets.
JAK PROTACs Design
The JAK PROTACs must be designed with due consideration of JAK target affinity, physicochemical properties of the warheads, and the linker. Small molecule inhibitors of JAK have been developed, which can be used in the design of the described JAK-targeting PROTACs. The JAK-binding ligands of PROTACs can be selected from pyrimidine and quinoxaline compounds. Following the screening and synthesis of the target ligands, the appropriate linkers and E3 ligase binders are appended, to design and synthesis JAK PROTACs. In addition, the linker can have a profound effect on the PROTAC' physicochemical properties such as regulating its cell permeability. Various all-carbon and polyethylene glycol (PEG) linkers, ranging from 10 to 20 atoms in length, could be screened to determine the optimal linker length and composition of JAK PROTACs.
Application
Recently, a CRBN-based degrader of JAK has been developed as a therapeutic candidate for the treatment of CRLF2-rearranged (CRLF2r) Acute lymphoblastic leukemia (ALL). Rearrangement of CRLF2 induces aberrant cytokine signaling and overactivation of the JAK-STAT pathway. The JAK PROTAC was reported to be highly efficient in the investigated leukemia/lymphoma cell lines and xenograft models of kinase-driven ALL. These early studies highlight the potential of JAK PROTAC as a therapeutic approach in JAK-STAT mediated diseases, however in vivo cancer models or clinical testing remains to be developed.
Our Services
Selection of JAK ligands
Design and optimization of cell permeable JAK PROTACs
Synthesis of JAK PROTACs
Evaluation of the degradation level of JAK by PROTACs
Our Advantages
Customized PROTAC development based on JAK target
Quality one-stop service
Data analysis, detailed report with results and discussion
Extensive experience in developing small molecule drugs targeting JAK
Short turn-around time and competitive price
Highly reliable and reproducible result
References
Seif, F., et al., The role of JAK-STAT signaling pathway and its regulators in the fate of T helper cells, Cell Communication and Signaling, 2017, 15, 23.
Shah, R.R., et al., Hi-JAK-ing The Ubiquitin System: The Design and Physicochemical Optimisation of JAK PROTACs, Bioorganic & Medicinal Chemistry, 2020.
* PROTAC® is a registered trademark of Arvinas Operations, Inc., and is used under license.