FAK is a key mediator of tumour progression and metastasis and a promising tumor target. PROTACs targeting FAK expand therapeutic options for FAK-related diseases and tools for the study of FAK non-enzymatic functions. As a leading CRO in targeted protein degradation, BOC Sciences provides one-stop FAK PROTACs design services to meet our clients' new drug discovery goals.
Introduction
Focal adhesion kinase (FAK) is a tyrosine kinase with a molecular weight of 125 kD that plays an important role in cell signaling systems. FAK is overexpressed and/or hyperphosphorylated in a variety of cancer cells, which is closely associated with cancer development and progression, and is considered an embryonic lethal protein. FAK receives diverse extracellular signals from cell surface transmembrane receptors, including integrins, G protein coupled receptors, cytokines, and growth factors, and then activates signaling cascades in a variety of cellular activities. FAK not only functions as a kinase, but also exerts kinase-independent scaffolding functions in different cellular processes, such as supporting vascular development. Previous studies have shown that FAK is a promising target for anticancer therapies and small molecule FAK inhibitors have been developed. However, many essential non-enzymatic functions of FAK cannot be investigated with reported FAK kinase inhibitors.
About FAK PROTACs
Proteolysis targeting chimera (PROTAC) is a heterobifunctional molecule, consisting of a target protein-binding ligand, an E3 ligase recruiting ligand and a suitable linker, which allows direct post-translational knockdown of proteins via ubiquitination of a target protein by E3 ubiquitin ligase and subsequent proteasomal degradation. Unlike classic inhibitors, PROTAC eliminates rather than inhibits both enzymatic and non-enzymatic protein functions. Thus, FAK PROTACs PROTAC can be used as a potential method to study the non-enzymatic function of FAK in vivo.
In the development of FAK PROTACs, FAK-targeting PROTAC libraries can be synthesized by using modular FAK ligands, E3 ubiquitin ligase ligands, and variable length of polyethylene glycol or alkyl linkers as small molecule building blocks. Wherein, small molecule FAK inhibitors, e.g. BI-4464, PF562271, can typically serve as target protein-targeting units in FAK PROTACs. In addition, FAK levels can be tested by immunofluorescence and other experiments to screen PROTACs with degradation effects on FAK. In conclusion, the development of potent and selective FAK PROTACs provides expanded tools and potential therapeutic agents to study the function of FAK in biological systems.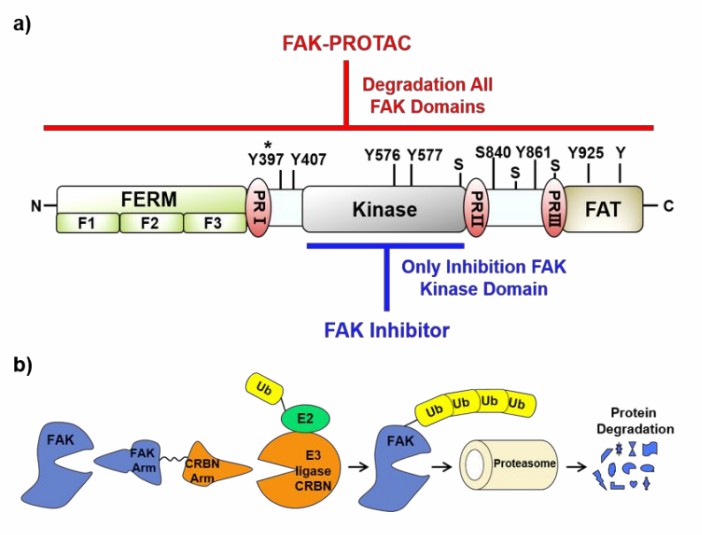 Fig. 1 FAK protein and FAK PROTACs (Gao, 2020)
Application
FAK promotes tumor growth, invasion, and metastasis through kinase-dependent manner. FAK inhibition in metastatic cancers can potentially prevent tumor progression. Small molecule FAK inhibitors regulate cancer cell angiogenesis have been reported. However, inhibitors can antagonize its kinase-dependent functions but not kinase-independent functions. Several studies have been conducted to develop FAK PROTACs, which can overcomes the limitations of small-molecule inhibitors. For example, BI-3663, a selective PTK2 (focal adhesion tyrosine kinase) degrader, was developed by the conjugation of a highly selective PTK2 inhibitor to a VHL ligand by PEG linkers; A FAK PROTAC library based on the FAK inhibitor and CRBN E3 ligand has been reported. FC-11, a novel FAK-targeting PROTAC, rapidly degraded FAK after 8 h of treatment in various cell lines.
Our Services
Selection of FAK ligands
Design and synthesis of FAK PROTACs
Analysis of FAK-PROTAC-E3 ligase ternary complex
Evaluation of the degradation level of FAK by PROTACs
Related Products
Our Advantages
Custom FAK-targeting PROTAC development
Comprehensive one-stop PROTAC platform
Data analysis, detailed report with results and discussion
Short turn-around time and competitive price
Highly reliable and reproducible result
Reference
Gao, H., et al., Design, Synthesis, and Evaluation of Highly Potent FAK-Targeting PROTACs, ACS Med. Chem. Lett. 2020, 11, 10, 1855-1862.
* PROTAC® is a registered trademark of Arvinas Operations, Inc., and is used under license.