CDKs are promising therapeutic targets for drug development. PROTACs overcome the problems of CDK inhibitors and hold the promise of achieving selective degradation of various CDKs. As a leading CRO in targeted protein degradation, BOC Sciences provides one-stop CDK PROTACs design services to meet our clients' new drug discovery goals.
Introduction
Cyclin-dependent kinases (CDKs) are protein kinases characterized by needing a separate subunit - a cyclin - that provides domains essential for enzymatic activity. CDKs were first discovered by genetic and biochemical studies in model organisms such as yeasts. As a eukaryotic protein kinase family, CDKs play important roles in the control of cell division and modulate transcription in response to several extra- and intracellular cues. Overexpression or dysfunction of CDKs or cyclins have been reported in a very large number of human cancers and other diverse pathologies. Thus, CDKs are promising therapeutic targets for drug development. More than 30 cell cycle proteins have been identified in humans, with different functions. CDK7 and CDK9 primarily regulate ranscription regulation, and CDK1, 2, 4, 6 and 11 regulate the cell cycle. Although some selective inhibitors of CDKs have been approved for cancer therapy, however, the toxicity associated with off-target effects of small molecule inhibitors with other CDKs homologs remains a clinical issue that has hindered their further therapeutic development.
About CDK PROTACs
Proteolysis targeting chimera (PROTAC) is a heterobifunctional molecule wherein one fragment interacts with the target protein and the other binds to a component of an E3 ubiquitin ligase and the two are connected via a suitable linker that ensures the correct orientation and distance between the two ligands. The formation of a stable ternary complex (target-PROTAC-E3 ligase) allows the E3 ligase to ubiquitinate a proximal lysine on the target protein to enable proteasomal degradation of target protein. Since the distribution of surface-exposed lysine residues are different among the various CDKs, a PROTAC generated using a CDK ligand with an appropriate linker could lead to a selective CDK PROTAC.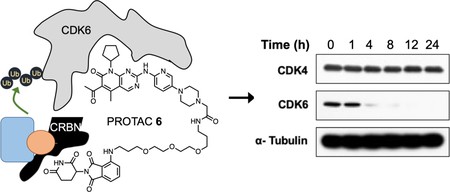 Fig. 1 CDK6 is selectively degraded by PROTAC (Rana, 2019)
CDK PROTACs Design
The use of non-selective CDK inhibitors as warheads to develop CDK PROTACs is an effective strategy. CDK inhibitors include aminopyrazole, aminothiazole and 4H-chromen-4-one analogues, etc. First, suitable CDK ligands are screened by X-ray crystal structure analysis and structure-activity relationship (SAR) studies of protein-ligands. The linker length and linker composition can be then explored and screened by synthesizing a focused library of CDK ligand-based PROTACs. To identify a CDK6 selective degrader, the degradation of CDK family of kinases can be assessed by Western blot analysis.
Application
The development of CDK PROTACs addresses the lack of selectivity of small molecule inhibitors for various CDKs. CDK9 is a potential tumor therapeutic target. THAL-SNS-032 was developed by conjugating selective ATP competitive CDK9 inhibitor and selective CDK9 degradation agent composed of thalidomide, which induced highly selective and rapid degradation of CDK9 without affecting the levels of other related targets; CDK8 plays an important role in the function of stem cells, inflammation and immune response. JH-XI-10-02 has been developed to induce significant degradation of CDK8 via recruiting the E3 ligase. In cancer treatment, CDK4/6 are attractive targets. Studies reported that BSJ-03-123, a degrader based on phthalimide, can achieve proteomic selectivity of CDK6 degradation by using protein interface determinants.
Our Services
Selection of CDK ligands
Screening of PROTAC linkers
Design and synthesis of CDK PROTACs
Evaluation of the degradation level of CDK by PROTACs
Related Products
Our Advantages
Custom PROTAC development based on CDK target
Quality one-stop service
Comprehensive PROTAC platform
Data analysis, detailed report with results and discussion
Highly reliable and reproducible result
Short turn-around time and competitive price
References
Rana, S., et al., Selective Degradation of CDK6 by a Palbociclib Based PROTAC, Bioorg Med Chem Lett., 2019, 29(11): 1375-1379.
Malumbres, M., Cyclin-dependent kinases, Genome Biol., 2014, 15(6): 122.
* PROTAC® is a registered trademark of Arvinas Operations, Inc., and is used under license.