BRD4 is a transcriptional and epigenetic regulator whose overexpression is associated with the development and progression of several tumors. PROTACs, as emerging therapies, are expected to overcome the resistance problems of traditional small molecule inhibitors of BRD4. As a leading CRO in targeted protein degradation, BOC Sciences provides one-stop BRD4 PROTACs design services.
Introduction
Bromodomain-containing protein 4 (BRD4) is a widely studied BET (bromodomain and extra-terminal domain) family protein. The BET family members can recognize acetylated proteins, including histones and non-histones (e.g. transcription factors). BRD4 is a transcriptional and epigenetic regulator that plays a key role in embryogenesis and cancer development. In addition, BRD4 is important for thetranscription elongation and expression of key oncogenes including Bcl-2 and c-Myc. Dysregulation of MYC protein levels is associated with most human cancers. MYC is dual regulated by transcription and protein stability. BRD4 is an oncogenic driver that activates Myc transcription and is being investigated as a therapeutic target for MYC-driven cancers.
Inhibition of BRD4 through the use of BET inhibitors is currently considered as one of the promising strategies for targeting hematological and solid malignancies. For example, JQ1, a small molecule BRD4 inhibitor, has shown potent antileukemic activity both in vitro and in vivo, possibly by inhibiting MYC. However, drug resistance and off-target effects become one of the challenges in using these small molecule inhibitors. Therefore, there is a need to develop additional promising therapeutic approaches.
About BRD4 PROTACs
Proteolytic targeting chimera (PROTAC), consisting of a ligand for target protein, a linker, and an adaptor to recruit an E3 ubiquitin ligase, is a protein blocking technology based on the ubiquitination-proteasome system (UPS) to target and induce protein degradation. BRD4 degraders based on PROTAC technology can ubiquitinate BRD4 protein by recruiting E3 ubiquitin ligases (e.g VHL, CRBN), which further leads to rapid, efficient and sustained degradation of BRD4 protein, resulting in potent antitumor effects.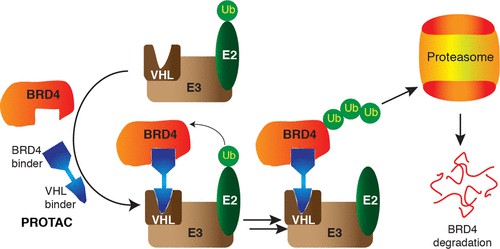 Small molecule BET inhibitors, including the triazolodiazepine-based JQ1 and I-BET762, bind to the KAc-binding pocket of the bromodomains and disrupt interaction with histones, thereby displacing BET proteins and their associated transcriptional regulatory complexes from chromatin.  However, BET inhibitors are not selective for individual BET family members, thus limiting their application to validate the role of individual BET members in physiology and disease. Moreover, none of the inhibitors described so far is selective for binding BRD4 over those of its paralogs BRD2 and BRD3.
The application of conventional small molecule inhibitors faces several challenges, including drug selectivity and resistance. However, PROTACs would overcome these challenges. Traditional small-molecule inhibitors are usually driven by occupancy of target, while PROTACs act as catalysts in event-driven manner. Thus, one equivalent of PROTAC could degrade multiple equivalents of target proteins. Due to the catalytic behavior of PROTAC, transient or low abundance ternary complexes are sufficient to achieve target degradation. Therefore, it is advantageous to design BRD4 PROTAC by choosing ligands with low affinity and high selectivity for BRD4 for PROTAC activity, enabling rapid assembly/disassembly of the ternary complexes.
Application
PROTACs targeting BRD4 have been reported to have potential therapeutic effect for hematologic malignancies and other tumors including multiple myeloma, acute myeloid leukemia (AML), lymphoma, colon cancer, and castration-resistant prostate cancer. For example, A1874, a BRD4-degrading PROTAC, effectively inhibited the viability, proliferation, cell cycle progression, and cell migration and invasion of primary colon cancer cells; MZ1 that tether JQ1 to a ligand for the E3 ubiquitin ligase VHL can potently and rapidly induces reversible, long-lasting, and selective removal of BRD4 over BRD2 and BRD3; ARV-825 consists of a BET inhibitor and CRBN ligand, which can effectively inhibit the proliferation and promote the apoptosis of T-ALL cells through BET protein depletion and c-Myc inhibition. In addition, recent studies have indicated that tumor-targeting amphiphilic micelles loaded with BRD4 PROTACs are able to target BRD4 against glioma. A therapeutic nanosystem (SPP-ARV-825) is constructed by incorporating the BRD4 degrader ARV-825 into the complex micelle composed of substance P-PEG-PDLLA and mPEG-PDLLA, which releases ARV-825 that acts on BRD4 to induce BRD4 ubiquitination and degradation to exert antitumor effects.
Our Services
Selection of BRD4 ligands
Design and optimization of BRD4 PROTACs
BRD4 PROTACs Synthesis
Binding affinities measurement
BRD4 PROTACs activity assay
Related Products
Our Advantages
Custom PROTAC development based on BRD4 target
Quality one-stop service
Data analysis, detailed report with results and discussion
Short turn-around time and competitive price
Highly reliable and reproducible result
Cost-effective and high-quality products
References
Yang, T., et al., A BRD4 PROTAC nanodrug for glioma therapy via the intervention of tumor cells proliferation, apoptosis and M2 macrophages polarization, Acta Pharmaceutica Sinica B, 2022, 12, 2658-2671.
Donati, B., Lorenzini, E., and Ciarrocchi, A., BRD4 and Cancer: going beyond transcriptional regulation, Molecular Cancer, 2018, 17, 164.
Zengerle, M., Chan, K., and Ciulli, A., Selective Small Molecule Induced Degradation of the BET Bromodomain Protein BRD4, ACS Chem. Biol. 2015, 10, 8, 1770-1777.
* PROTAC® is a registered trademark of Arvinas Operations, Inc., and is used under license.